Joya Maya
Bed & Breakfast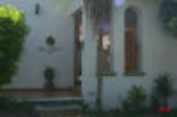 JOYA MAYA
offers a change of scenery...... on the beach of Costa Maya!!!!

our secluded, out of the way, Jewel of the Caribbean is located in a private development called

Casas de Xaczil Ha
OUR ROOMS
provide you with first class accommodation

ocean view

ceiling fan and/or supplementary air conditioning

private bath

coffee bar

fridge

and an appetizing continental breakfast to start your day!!!!!
TO FIND US
Travel south on highway 307 from the Cancun airport for approximately 350 kms. just past the town of Limones.

Turn left, at the Mahahual turnoff and drive to the sea (56 kms.) where you will find the town of Mahahual.

Travel south for 10 kms.

The sign, on the left, outside our red gate reads "Casas de Xaczil Ha".... enter!

We are the first house to the right!
THE BEACH ROAD
Traveling south of Mahahual is a Jungle experience as it is very rough, so drive carefully as it is quite narrow and there are children, dogs, cyclists, buses, tourists and small restaurants along the way. You will pass many interesting establishments many of which we will recommend for dining, entertainment, and many other activities you may wish to engage.
MAHAHUAL
Is a thriving town of approximately 1500 people, but growing very fast! It is a "Cruise Ship Destination" and the main street becomes a pedestrian way when ships are in! Otherwise the town is a quaint, fishing village. So whether you enjoy the excitement and activity, along with bartering with local merchants on cruise days, or just want to loll around on the beach ... it is all here for you to see and do - or not do!